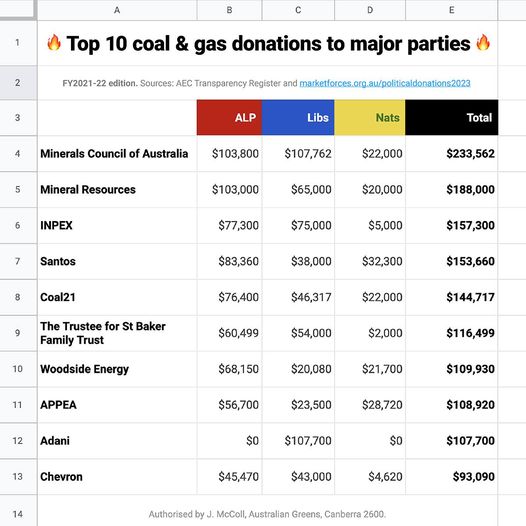 Money talks – and the fossil fuel industry's $2 million in dirty donations Labor, the Liberals & the Nationals says it all.
No wonder 118 new coal & gas projects are currently in the pipeline, with the Labor Government handing out $42.7 billion in fossil fuel subsidies last budget.
It's pay to play with the major parties, with Labor receiving the most cash from fossil fuel corporations last year.
And the $2 million doesn't include the donations we don't know about due to our incredibly lax political donations laws – which the Centre of Public Integrity estimates could represent 38.6% of a political parties' income.
It explains why Labor's draft safeguard mechanism allows them to open new coal & gas mines in a climate crisis, including every one of the former Liberal government-backed new gas and coal projects.
This isn't how a thriving democracy should work.
That's why the Greens are pushing to clean up our democracy, fix our broken donations laws, and fight a Government agenda that puts polluters before people.