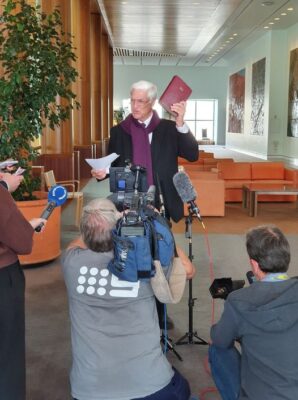 I addressed media in Canberra today to slam the continued persecution of Christianity, after learning the Senate Chief has proposed to ban morning prayers .
I held up the Holy Bible and rattled off a plethora of recent examples of religious persecution in Australia.
The seven Manly Sea Eagles players, who stood down to defend their religious beliefs, should be praised for their courage and conviction.
This Book for 5,000 years has been the heartland of religious belief, a concept that there is something bigger than me, but in sharp contrast, the persecutors believe that there is nothing bigger than themselves and their opinions.
For 5,000 years the persecution of the people who believe in this Book have been on public record. I will not go through the persecutions that go back to the dawn of time. I'll just mention one – just one
During WWII, six million people were murdered in cold blood, many in gas chambers, for no other reason than what they believed. And remember, the Torah is based on the first five Books of the Hebrew Bible.
This continued persecution is well and truly alive today. Just have a look at what's happened to these seven boys from Manly. They have been persecuted for no other reason than they have moral conviction and whether you agree with their convictions, or not, is irrelevant.
The conviction shown by these seven men is heroic and every decent member of society should admire them. Whether you agree with them or you don't, they have stood up for what they believe in at great personal sacrifice and that is truly admirable.
Read more of my press statement on my website ⬇️⬇️⬇️⬇️
https://www.bobkatter.com.au/religious-belief-persecution-continues-as-parli-prayers-ban-proposed
---
The content above from the originating party/author(s) may be of a point-in-time nature and edited for style and length. The views and opinions expressed are those of the original author(s). View original.
AusPol.co Disclaimer