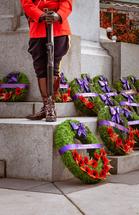 This morning I attended the Royal Commission into Defence and Veteran Suicides in Townsville. I hold hope that the Royal Commission will be the launchpad for reform across the Defence Force.
A warrant officer once said to me that when you exit the army, you lose your identity, your purpose in life, your income, your medical coverage, and as often as not, you also lose your real family as well. Also, you can't get a job. Your pride is all but taken away because what has kept your head upright has been removed.
I think that people like retired Captain Tim White, who as I understand it will be coming before the hearings, has proven that there are answers out there with his Kapani Warrior program. While he has an awesome reputation for what he has accomplished with First Australians in the Cape, to me, this is where the answers lie but on a much bigger scale.
The Royal Commission confirmed this morning that many more suicides had been reported to them since the last Hearing was held and this is a reflection of the government and their continued failure to look after the people who lay down their lives to defend Australia.
What tipped me over the edge on this issue was when I was down at the Bushland Beach Hotel and out of a couple of hundred people, I ran into nine people whose cousin/brother/sister had attempted or succeeded in committing suicide.
The Chief of Defence has a lot to answer for. He fronts the Commission on Thursday and Friday. A decent commander will always take responsibility for his actions. You are the Commander in Chief. You don't blame your troops. But all this bloke has done is blame shift at every possible opportunity.
Read more at https://www.bobkatter.com.au/veteran-suicide-royal-commission-will-expose-chief-failings
#BobKatter #kap #auspol
Veteran Suicide Royal Commission will expose Chief failings
---
The content above from the originating party/author(s) may be of a point-in-time nature and edited for style and length. The views and opinions expressed are those of the original author(s). View original.
AusPol.co Disclaimer