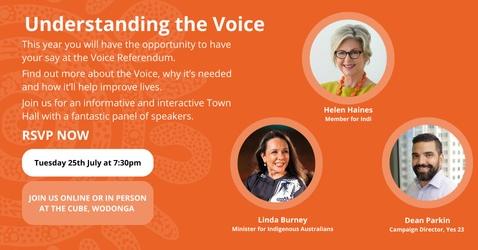 Have you registered for the livestream of tomorrow's Voice Forum in Wodonga?
Tickets to attend in person have sold out – but you can still register to watch from home.
Once you have registered, a link will be
emailed to you prior to the event commencing at 7:30pm. You will have the ability to interact with the forum, including by asking questions.
A full recording will be available later this week if you can't make it tomorrow or want to re-watch. I'm really excited for this opportunity to learn more about the Voice to Parliament and I hope you are too.
Register for an online ticket here:
Indi Voice to Parliament Community Forum | Humanitix