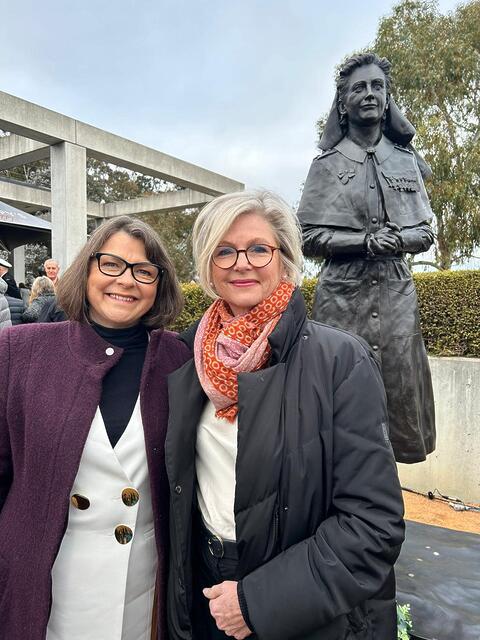 Lieutenant Colonel Vivian Bullwinkel was a formidable and tenacious woman. She is someone I've admired since I was a student nurse training at St Vincent's Hospital in Melbourne.
Sister Vivian Bullwinkel was the sole survivor of the Banka Island Massacre on 16 February 1942, who then endured three and a half years as a prisoner of war. She trained as a nurse and midwife in Broken Hill before joining the Australian Army Nursing Service in 1940. After retiring from the Army in 1947, she became Director of Nursing at the Fairfield Infectious Disease Hospital, then later, President of the Royal College of Nursing Australia, and established the Australian Nurses Memorial Centre.
This morning I was honoured to attend a ceremony and unveiling of a sculpture at the Australian War Memorial dedicated to Lt Col Bullwinkel's lifetime of achievements, and the 21 unarmed nurses who died on Banka Island (east of Sumatra). There were many impressive and moving speeches that paid tribute to Lt Col Bullwinkel's dedication and devotion to nursing, including by her nephew John (pictured).
This is the first named bronze statue of a woman to be placed at the War Memorial, with Lt Col Bullwinkel now joining John Simpson Kirkpatrick and his donkey, Sir Edward 'Weary' Dunlop, and General Sir John Monash.
I was pleased to be able to share this moment with my parliamentary colleague Ged Kearney (the only other nurse in the Australian Parliament), as well as Elizabeth Lavender, Judy Parker, Barb Green, and Elizabeth Allwood from the Australian Nurses Memorial Centre.