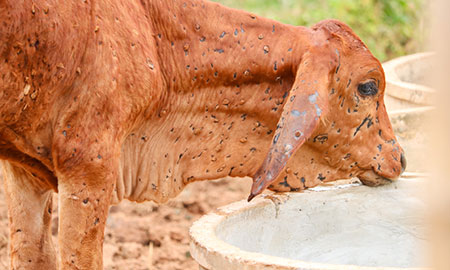 Suspension of live cattle and buffalo exports to Malaysia
As Australia's Chief Veterinary Officer, I can confirm that lumpy skin disease, or LSD, has never been detected in Australia, and Australia remains free from the disease.
The Department of Agriculture, Fisheries and Forestry (DAFF) has been advised that Malaysia has temporarily suspended live cattle and buffalo exports from Australia.
We understand this decision was based on Indonesia's advice that they will not accept cattle from four specific export establishments following detection of LSD in exported Australian cattle after they had arrived and spent time in Indonesia.
We are working to finalise the investigation into the relevant health status of the cattle herds associated with these establishments to provide the assurances that Indonesia has requested.
Australia is urgently engaging with its Malaysian counterparts to confirm our robust animal health system, and to advise that LSD is not present in Australia.
I have made representations to my Malaysian counterpart, requesting the import restriction on live cattle and buffalo from Australia be lifted without delay. I have also confirmed to the World Organisation for Animal Health that Australia remains LSD free in accordance with international standards.
The department has briefed the industry and will continue to work closely with stakeholders to provide the necessary assurances to our trading partners on our animal health status.
While Indonesia has sought assurances that Australian cattle comply with their health requirements, it is important to recognise that Australian livestock products continue to be traded, and the detection of LSD in cattle of Australian-origin post arrival in Indonesia does not affect the animal health status of Australia.
Australia has robust biosecurity systems in place for the ongoing monitoring of Australia's animal disease status including for LSD.
LSD is a highly infectious viral disease of cattle and buffalo that is transmitted by biting insects – it is not a disease that poses a risk to humans.
There is no cause for concern for Australian cattle producers as Australia remains LSD free.
Dr Mark Schipp, Chief Veterinary Officer of Australia.