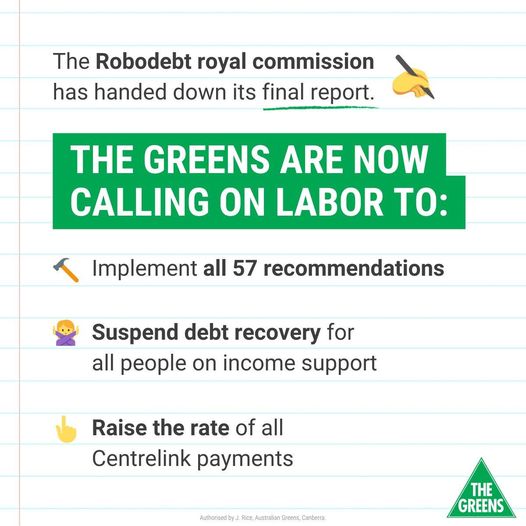 The Greens welcome today's report from the Robodebt Royal Commission.
This is the culmination of years of fighting, advocacy, and bravery from the thousands of victims and their families who were indiscriminately targeted and traumatised by this callous and illegal scheme.
Thousands of innocent people were made to feel like criminals when it was Robodebt that was criminal. The Prime Minister, his cabinet, and senior department officials responsible for this scheme must be held to account for this brutality.
However, justice is far from being done.
Just weeks after the last election, the Labor Government announced they would recommence targeting jobseekers with aggressive debt collection during a cost of living crisis.
Labor is choosing to make life harder and more stressful for people on poverty payments, all the while claiming they are championing victims of automated debt-collection. That they can't see the hypocrisy is staggering.
If Labor care about any of the thousands of victims of Robodebt, those who lost their lives because of it, their families, and the millions of Australians still struggling under the broken and cruel Centrelink system, then it's time they put their money where their mouths are.
Raise the rate of social security payments above the poverty line and stop debt-collection.