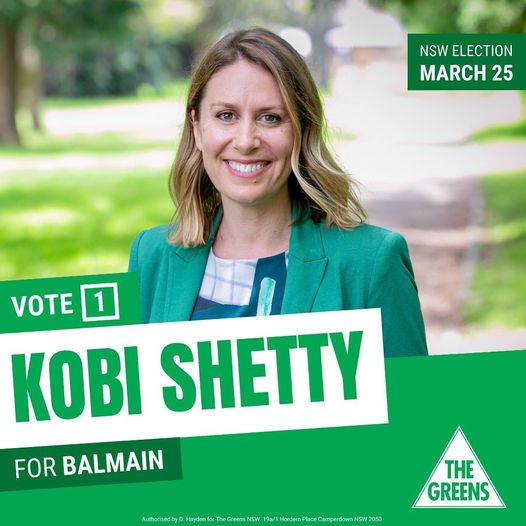 Kobi Shetty – Greens candidate for Balmain.
Kobi is a long-term-local and lives in Lilyfield with her husband, 3 kids, and dog Zola. She's served on Inner West Council, has a professional career in preventing financial fraud, and is the daughter of a firefighter.
Kobi has a proven track record on Council and has been working alongside Jamie Parker MP for years to deliver results for the community. She has led local school climate strikes, worked to increase transparency over council decisions, spearheaded the campaign for safer cycling infrastructure, and pushed for more public housing on public land.
"I have spent a lot of time talking to people in the community, and it's clear that the people of Balmain care about climate change, want to live in a society that cares for our most vulnerable people, and want to see an end to corruption in NSW politics. No matter who wins government next year, I will push them further and faster to tackle the climate crisis, protect our local area from overdevelopment, address housing affordability, make getting around Sydney easier, and stand up for integrity."
Kobi is running because she knows Balmain needs a strong independent voice in the NSW Parliament. One that will take real action on integrity, the climate, and what the local community needs. Unlike Liberal and Labor, Kobi never has and never will take a cent of political donations from a corporation so she will always put our community first.