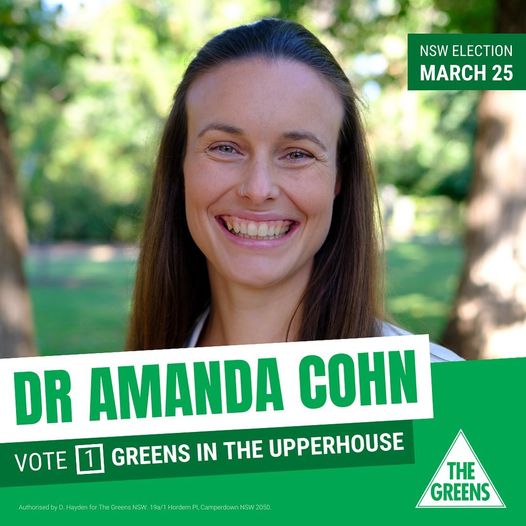 Voting 1 Greens in the NSW Upper House means we can elect Dr Amanda Cohn – Greens. Amanda is a GP and frontline emergency services volunteer based in Albury-Wodonga.
As the youngest woman ever elected to Albury City Council and Deputy Mayor 2016-21, she led initiatives for climate action, protection of native vegetation, and recognition of First Nations heritage. During this time she drove regional coordination to support victim survivors of family violence as Chair of the Border Domestic Violence Network.
"Communities across NSW are looking for real change to address the multiple crises we are facing – from climate and extinction to health, housing, and widening inequality. I've seen first hand the dire state of our public health system and the real impact of floods, fires and drought. The Greens have the courage and the track record to push for the meaningful change that we need.
I'm ready to hold the NSW government to account, and to work towards a future where all women are safe in our own homes, where health care and housing are a human right, where our precious places are not just protected from overdevelopment but restored and revegetated, and where young people's voices are heard."
As a GP, Dr Cohn is a provider of medical abortion, gender-affirming care and health assessments for newly arrived refugees. She was a key voice in the campaign to decriminalise abortion in NSW.
Amanda has been a SES volunteer for more than a decade, she has been deployed across the state from Glen Innes to Warringah to Queanbeyan to support local emergency responses. She is a trained flood rescue boat operator and swift water rescue technician, and received the SES Commissioner's Certificate of Appreciation for outstanding service provided during the 2019-2020 bushfires.