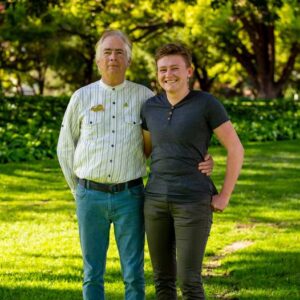 On election day, if you glance down the first column on the long white senate ballot paper for WA, you'll find the Greens and two members of the same Denmark family. River Clarke (they/them) and their dad, Donald are both on the Greens senate ticket this election.
——
River: 'Dad was always managing election campaigns for the Greens or organising the party across the region or driving community campaigns. As a kid, I had Senators and state MPs at my dinner table, helping me with fundraising projects.
Of course, Dad was my main inspiration to be active in politics. His commitment to our community, the environment and climate action has been amazing, and of course I want to do my bit too. It is my generation that is going to suffer from global warming, so we all need to get involved.
Donald: 'I wish I'd known in my 20's that I could make a difference and had the courage to do so. River moved to the city after finishing high school in Denmark, and jumped straight into tackling the big issues facing young people, queer people, students.
You know, they have been the youngest candidate in the metro area for the last two elections. I was nearly 40 before I was willing to speak out. And River is already more articulate than me!
---
The content above from the originating party/author(s) may be of a point-in-time nature and edited for style and length. The views and opinions expressed are those of the original author(s). View original.
AusPol.co Disclaimer