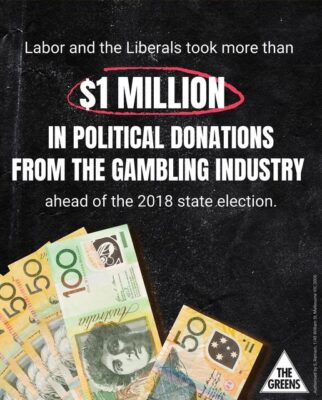 Victorians have lost a staggering $66 billion on pokies in 30 years.
Labor and the Liberals are failing to prevent the harm to families and communities from pokies because they are too close to the gambling industry.
Ahead of the 2018 Victorian state election, they took more than $1 million in political donations from the gambling industry.
The Greens refuse donations from gambling corporations.
We are not afraid to stand up to the gambling industry or to take serious action on gambling harm, like pushing for $1 bet limits.
The Greens will continue to hold the Labor Government to account.
We put people first.
---
The content above from the originating party/author(s) may be of a point-in-time nature and edited for style and length. The views and opinions expressed are those of the original author(s). View original.
AusPol.co Disclaimer