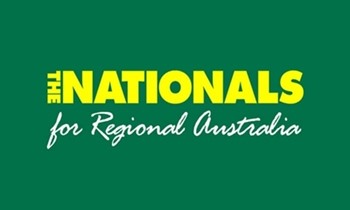 North-west Victoria's chance for a more efficient freight rail network will disappear forever if the Murray Basin Rail Project is not fully completed to its original scope.
The Nationals Candidate for Mildura Jade Benham and Leader of The Nationals Peter Walsh have condemned a deceptive campaign spruiked by 'Independent' MP Ali Cupper that the stalled project is "almost complete".
Ms Benham said this couldn't be further from the truth, citing a Victorian Auditor-General's report from September last year which found the project is five years overdue and $367.9 million over budget.
"Ms Cupper should be standing up for Mildura and the Sunraysia but instead is working overtime to let the Labor Government off the hook for abandoning our community," Ms Benham said.
"Local producers and transporters say Labor's botched delivery of Basin Rail has left our community worse off than before the project started.
"If Basin Rail is not completed – in full and to its original scope – it'll limit our potential to open our region to domestic markets and new and emerging markets around the world."
Local stakeholders have slammed the Andrews Labor Government's botched work on the rail line so far.
They say shoddy workmanship has slowed speed limits to 25kmh and lowered the axle loading leaving the line less efficient and taking five hours longer to get to port than before the project started.
This year's May State Budget labelled the Estimated Completion Date as "tbc", noting "the completion date will be disclosed following completion of the procurement processes".
Mr Walsh said Ms Cupper, a former Labor candidate, was toeing the Party's line.
"Labor has spent years crab walking away from the Premier's 2015 promise that Labor would continue these upgrades and complete the project in full," Mr Walsh said.
"Labor's project mismanagement has sent the Basin Rail Project spiralling down a black hole of cost blowouts and delays, but instead of fixing the problems the Andrews Labor Government's rewriting history with a 'rescoping'.
"The livelihoods of local producers and transporters rely on an efficient freight rail network. Remember this November when you vote for the next government that Ms Cupper and her city Labor mates are willing to abandon north-west Victoria."
Last week, Labor Freight Minister Melissa Horne was slammed for describing the freight network as "gold-class", with rail experts saying it's in such bad disrepair that Victoria is being left behind in productivity.
A 2015 Government media release on the Basin Rail trumpeted "the Labor Government's comprehensive plan" with Daniel Andrews quoted saying "the Andrews Labor Government is committed to the full Murray Basin Rail Project".
---
The content above from the originating party/author(s) may be of a point-in-time nature and edited for style and length. The views and opinions expressed are those of the original author(s). View original.
AusPol.co Disclaimer