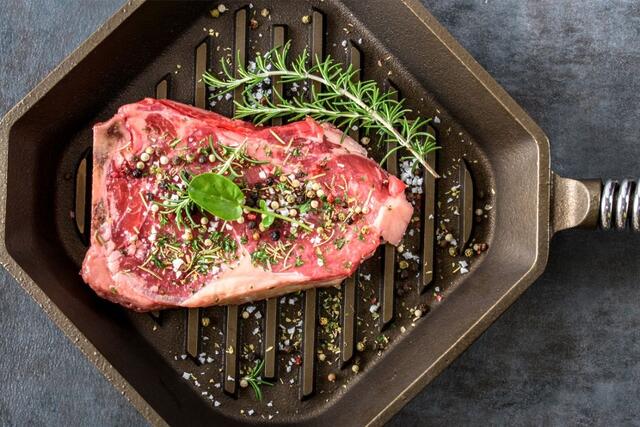 Analysis – Opportunities for Australian red meat under A-UKFTA
The Australia-United Kingdom Free Trade Agreement (A-UKFTA) entered into force on 31 May 2023.
The A-UKFTA eliminates tariffs on Australian beef and sheepmeat to the UK over 10 years (Table 1) with immediate access to duty-free transitional quotas.
This will provide more opportunities for Australian exporters in the UK's US$2.0 billion beef and sheepmeat market.
Implications for Australian red meat exporters
Before the A-UKFTA, Australian beef and sheepmeat entered the UK market under the most-favoured-nation (MFN) import duty of 12% plus GBP100-GBP260/100kg. In addition, Australia had a high-quality beef quota of 3,761 tonnes at an ad valorem tariff rate of 20% and a sheepmeat and goatmeat quota of 13,335 tonnes at zero-tariff rate to the UK. These tariffs and quotas made Australian red meat more expensive to import, reducing its competitiveness in the UK market.
On entry into force, the A-UKFTA will provide Australian red meat exporters with access to tariff free quotas (Table 1 ). The tariff rate on exports outside of these quotas will remain at MFN until the tenth year and then be eliminated. From 2034 (year 11) to 2038 (year 15), Australian red meat to the UK may be subject to a product specific safeguard measure.
Australian red meat in-quota exports to the UK will no longer have a tariff disadvantage relative to the European Union (EU). Australia will also have similar access as New Zealand and better access than other major exporters (Uruguay and Brazil) in the UK market.
Exporters should visit the Department of Agriculture, Fisheries and Forestry UK and EU quota webpage to apply for a quota allocation to export beef and sheepmeat to the UK.
Table 1 Tariff free quotas for red meat under the A-UKFTA (tonnes)
| Year | Beefa | Sheepmeatb |
| --- | --- | --- |
| 2023c | 20,616 | 14,726 |
| 2024 | 43,333 | 30,556 |
| 2025 | 51,667 | 36,111 |
| 2026 | 60,000 | 41,667 |
| 2027 | 68,333 | 47,222 |
| 2028 | 76,667 | 52,778 |
| 2029 | 85,000 | 58,333 |
| 2030 | 93,333 | 63,889 |
| 2031 | 101,667 | 69,444 |
| 2033 | 110,000 | 75,000 |
a0201; 0202; 0206.10.95; 0206.29.91; 0210.20; 0210.99.51; 0210.99.59; 1602.50; 1602.90.61; 1602.90.69.
b0204.10; 0204.21; 0204.22; 0204.23; 0204.30; 0204.41; 0204.42; 0204.43; 0210.99.21; 0210.99.29; 1602.90.91.
c2023 pro rata amount. Total quota is 35,000 and 25,000 for beef and sheepmeat respectively.
Source: A-UKFTA Section 2B
Australian red meat exports to the UK
Since 1989–90, the real value (inflation adjusted) of Australian red meat exports to the UK has been relatively stable between A$150 million and A$200 million (Figure 1 ). The exceptions to this were the export peak during the Australian drought of the mid-2010s and recent falls due to herd rebuilding.
Over the last three decades, lamb has made up an increasingly large share of Australia's sheepmeat exports to the UK. Between 1988–89 and 1998–99, the value of lamb and mutton exports to the UK was relatively stable. Since 2010–11, lamb has comprised 70% of the value of Australian sheepmeat exports to the UK (ABS 2023).
Between 2019–20 and 2021–22, 1% of the value of Australian red meat exports went to the UK. This included 2.5% of sheepmeat and 0.1% of beef. The A-UKFTA will make Australian red meat more competitive in the UK and will help to increase the share of exports going to the UK market.
Figure 1 – Value of Australian red meat exports to the UK, 1989–90 to 2021–22
Imports of red meat by the UK
Imports by type
Between 2020 and 2022, beef made up 78% of the UK's US$2 billion red meat market (yearly average) (UN Comtrade 2023).
UK beef imports peaked in 2008 and fell slightly in 2009. Imports have been relatively stable since with a fall in the last few years because of a drop in beef consumption (Figure 2).
Figure 2 – Value of UK red meat imports from the world by type, 1994 to 2022
Imports by partner
The UK's red meat import market is segmented. Most beef imports come from EU countries, while sheepmeat imports predominately come from New Zealand and Australia.
Ireland (76%) is the largest supplier of beef to the UK, followed by Poland (7%), the Netherlands (5%) and Germany (3%). Beef imports from non-European countries, including Australia, are limited (UN Comtrade 2023).
New Zealand (68%) and Australia (17%) are the major sheepmeat suppliers to the UK (Figure 3). In Europe, the UK is Australia's largest sheepmeat market. In 2021, the UK per capita consumption of sheepmeat was estimated at 3.9 kg compared with 1.6 kg for the EU on average (MLA 2021). Sheepmeat is sold at UK's foodservice channels, retail outlets, department stores and convenience stores.
Figure 3 – Value of the UK's total sheepmeat imports by destination, 1994 to 2022
Australian red meat industry
Beef and veal and sheepmeat are some of Australia's most valuable agricultural enterprises. In 2021–22, cattle meat was the largest contributor to total farm products with a gross value of production (GVP) of A$15.3 billion. Sheepmeat was the fourth largest with GVP of A$4.9 billion. Beef and veal and sheepmeat represented 23% of total Australian farm products (A$87.7b) in 2021–22.
Between 2019–20 and 2021–22, Australia exported an average of A$13.9 billion of red meat each year (ABS 2023). Beef and sheepmeat accounted for 69% and 30% respectively.
Asia is the main market for Australian red meat. China (20%), Japan (16%) and Republic of Korea (14%) were the main market between 2019–20 and 2021–22 by value. The United States (22%) was the largest importer by value in the same period.
The A-UKFTA provides more opportunities to grow the value of Australian red meat exports to the UK.
Resources
The Department of Foreign Affairs and Trade has guidance material and a business guide about the A-UKFTA.
Austrade has more information about the UK market.
The Australian Government's network of Agriculture Counsellors provided information for this article. More information about the Agriculture Counsellor network, including contact details, are available on the Department of Agriculture, Fisheries and Forestry website.
Go further, faster with Austrade
Go to Austrade's Go Global Toolkit to learn the export basics, find the right markets and understand market requirements.
Connect with us
Follow our @AusAgTrade Twitter account for all your #TradeTips and Market Intel.
Subscribe to our monthly Agriculture Market Intelligence Insights newsletter.