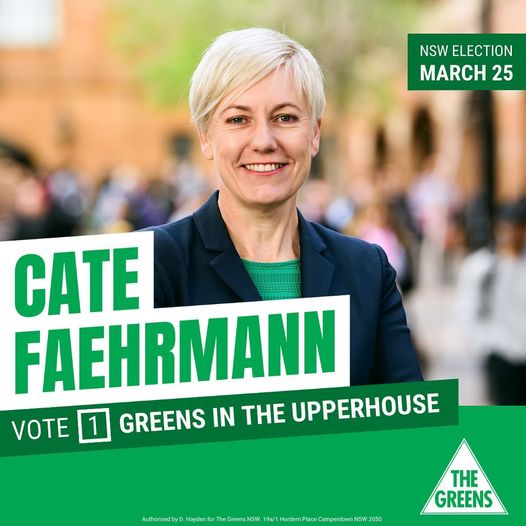 Cate Faehrmann is our Lead NSW Upper House Candidate, and one of your Greens voices in NSW Parliament.
Cate has been a lifelong champion of the conservation of nature,environmental sustainability and social justice. She was Chair of Sea Shepherd Australia, a founding Director of GetUp!, a Board Member of the Environmental Defenders Office and head of the Nature Conservation Council.
"I came to the Greens out of a passion to make a difference for our environment, to fight for justice and for a future that puts people and the planet ahead of greedy corporate interests like big coal and gas."
Cate has worked tirelessly in the NSW Upper House and the community for a more just and sustainable world. She is a champion for our wildlife, leading successful campaigns to protect koalas and their habitat and prevent dangerous anti-environment laws passing the parliament. As Chair of the powerful Public Accountability Committee, Cate helped expose former Deputy Premier John Barilaro's "jobs for the boys" saga.
One of Cate's passions is reforming our harmful and outdated drug laws. She has campaigned to repeal discriminatory laws that prevent medicinal cannabis patients from driving and introduced bills to legalise cannabis and allow pill testing. Reforming our drug laws to remove criminal sanctions for the personal use of currently illicit drugs is one of her top priorities in the new parliament. Following a spate of drug-related deaths at music festivals in NSW in 2018-19, Cate gained international attention when she chose to speak her truth about her own MDMA use, in response to the Premier telling young people to Just Say No to drugs. By doing so, she changed the narrative around the nature and extent of drug use in this country.
Cate is a strong voice that will always fight back against the regressive, far-right and stand up for people and the planet.